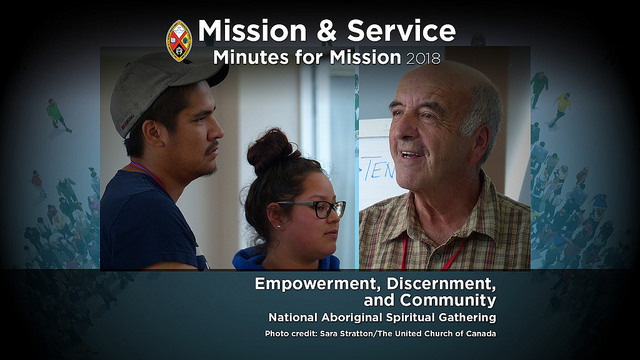 Our gifts for Mission & Service support events
where Indigenous communities can come together in solidarity and faith.
For several decades, Indigenous communities of faith have gathered nationally to discuss matters of self-determination, spirituality, and their relationship with The United Church of Canada. These gatherings are a forum for listening to one another and discerning Creator's plan for mission and ministry.
The 2017 National Aboriginal Spiritual Gathering took place July 27–30 on the Treaty One Territory (Pinawa, Manitoba). A Sacred Fire burned throughout the Gathering, with four Fire Keepers guarding the Fire at all hours of the day. Participants came from across Canada—including youth, Elders, and ecumenical guests—as well as from the Moderator's Dialogue on Reconciliation.
The Very Rev. Dr. Stan McKay offered a Bible study, where participants reflected on biblical passages alongside the seven Sacred Teachings of Love, Respect, Courage, Honesty, Wisdom, Humility, and Truth.
Dr. Shauneen Pete, an educator from Saskatchewan, spoke of her experiences working in academic institutions on issues of workplace equity, institutional racism, and cultural competency. Connections were made between these issues and the work of reconciliation. Dr. Pete praised events like the National Aboriginal Spiritual Gathering that dig deeper into the issues and empower their participants.
We are thankful for gatherings like the National Aboriginal Spiritual Gathering, and we celebrate that, through your gifts for Mission & Service, communities can look forward to the next Gathering in 2020.
Source: The United Church of Canada
Photo credit: Sara Stratton/The United Church of Canada